Protect Your Property and Say goodbye to the dread of rain with Our Professional French Drain Installations
Our professional French Drain installations protect your property by providing superior drainage solutions, saving you the stress and cost of future water-related repairs. Invest in peace of mind, safeguard your property value, and eliminate the headache of insurance claims with us
Poor drainage can cause many expensive issues.  Buildings can suffer as runoff water can rot wooden structures and damage foundations. It can cause health Issues by causing  mold and mildew, it also creates a perfect breeding ground for mosquito's that carry diseases like Zika Virus, Heartworm Disease and West Nile Virus, some of the most common mosquito breeding grounds are standing water and clogged/poorly installed gutters and drains.  All the previously mentioned problems can be expensive to repair or remedy.
Well installed and maintained drainage on your property is vital in central Florida.  Lowrys provide drainage solutions and can design build, install and maintain your properties drainage requirements.
Excessive uncontrolled runoff and storm water can also cause a negative impact downstream with erosion. It can carry pet waste, fertilizer and weedkillers and other pollutants.
We address both Surface water and subsurface water on your property.  Surface water is primary from rainfall runoff and overland flow, this runs off roofs, driveways, decks, sidewalks and also the landscape.  The upper level of soil becomes saturated during persistent rainfall events that exceeded the infiltration capacity of the soil and so any further rainfall will runoff.
Subsurface water is primary from water infiltration, though high water tables and underground springs are other sources of subsurface water.  Correctly drained soil will help maintain soil structure and improves plant growth by deepening the root zone,  beneficial during the dry season.
Small drainage problems can lead to bigger ones surprisingly quickly.  Lowrys can prevent this happening with our drainage design.  Don't delay, act now to protect your investment.
At Lowrys we will evaluate your property, taking into account the Permeability of the soil type and its infiltration rate . We use this information with the peak water runoff in order to correctly determine the required flow rate, slope type and size of the drain solution required for you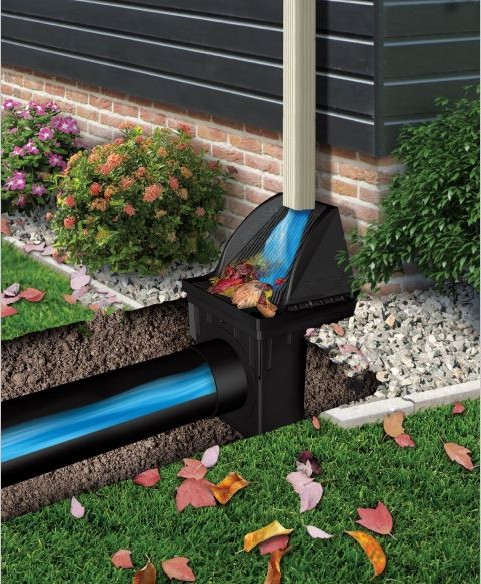 What type of drainage do we install?
Depending on your needs we normally install a mixture of solutions.
French drain.
Downspout drain.
Channel and Trench Drain.
Foundation French drain and rubber sealing.
Catch basin surface water drain.
All these solutions are used to protect your home.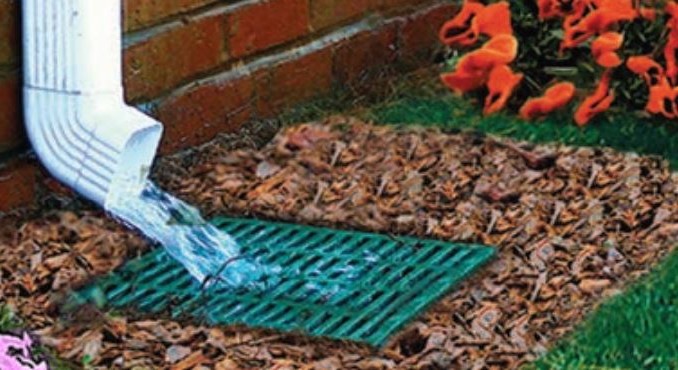 Ready For Lowrys to Work for You?
Our Passion And Love of Making Your Property Look Fantastic Shows Through In All Our Work
Our French drain system is designed to remove subsurface water from areas that need it.  It is conveyed away to detention/retention and finally a discharge to surface in a water safe area.  These can have either turf over the top or stone. If parts of your landscape remain flooded or saturated for long periods of time, a French drain may be needed to help dry out the area.  It also Relieves hydrostatic pressure for retaining wall. Hydrostatic pressure can, depending on the design of the retaining wall, cause a collapse.
Benefit of subsurface drainage. Relieves hydrostatic pressure around foundation  walls.  This is similar to the French drain. The main difference is the location. This is designed to remove water from around the foundation of the property to convey the subsurface water away to detention/retention and finally a discharge to surface in a water safe area.  There is an addition of a protective rubber membrane applied to the foundation of the property.
Arguably this is the most important drain to protect your property.  The downspout catches vast amounts of sheet flow from the roof via the gutter.  In the vast majority of gutter installs the water is then dumped right next to your foundation and is splashed back up the walls of your property. Some people place a downspout extension to move the water flow a couple feet from the property. This is a wholly inadequate method of protecting your home.
Our downspout drains connect directly to the downspout, it runs under the surface before sweeping away from the property. The water is then conveyed away to detention/retention and finally a discharge to surface in a water safe area.
Catch basins are designed for the removal of surface water from the problem area catching directional flow water.  yard drains are often used in conjunction with French drains.  We also install specifically designed catch basins in landscape beds to ensure mulch and other debris do not block the drain system to catch flow at low points in the landscape.

We use channel drains to catch Sheet flows such as on driveways and pool decks.  Once the runoff water is captured it is  then conveyed away to detention/retention and finally a discharge to surface in a water safe area. This standing water can stain hard surfaces, if the hard surface is level or has a gradient towards your home. The damage to the structure can be severe and expensive to repair.
If you have water running into your garage , a channel drain will solve your problem.